First Fun Fact: often misspelled as "silicon bands" during Internet searches.
Silicone wristbands or bracelets have become increasingly popular over the last few years. While they have been in existence for years, they were more of a fad among high school kids who wore them to signify various friendships and cliques in the beginning.
Now, silicone wristbands have "graduated" into an adult adornment usually worn on the wrist to convey a message or support a cause. Some are even sold as souvenirs at beaches and other tourist attractions.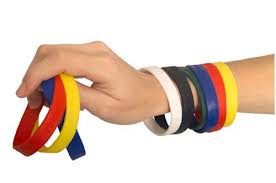 Why They are Popular
Silicone bands are popular because they are great at creating publicity and are economical to distribute. While they are most commonly used for causes and charity fundraisers, silicone bracelets can also be used by savvy business owners to promote their businesses or products. They are brightly coloured and any message on them is plainly visible.
They are great conversation starters, especially for causes and charities. They can even be used to commemorate special events and are now becoming popular to use in place of paper tickets.
The Rise of the Humble Wristband
Wristbands languished in limbo until Lance Armstrong started his "Livestrong" campaign to help fight cancer. He originally intended to raise $5 million but sales and donations were so strong that the Livestrong campaign would eventually make more than $25 million.
Eventually, other causes started putting out their own wristbands and many had great success. Eventually, the "genie was out of the bottle" and every charity with a fundraiser decided they had to have a wristband.
Even though they have become an adult fundraising and awareness raising mainstay, teenagers still wear plain silicone bracelets as "jewellery." Silicone is also the material of choice for younger people who wear "friendship bracelets."
Call ImagePak Marketing
Call us today to get your own silicon bands or silicone bracelets with your customised message. We have plenty of bright colours and a turnaround time of less than three weeks. Call (08) 92444 111 today.